Climate Change Impacts: Changing Livelihoods and Agricultural Practices in Bangladesh's Chars
01 Apr 2016
By Md. Arfanuzzaman, BCAS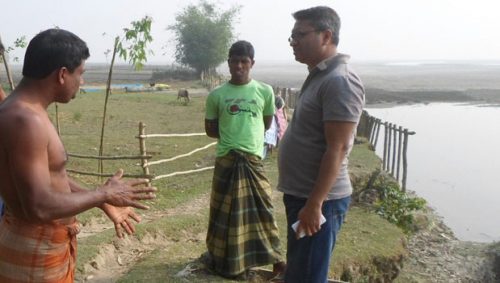 Abulkalam Azad, a river-dependent farmer speaks of his experience of river bank erosion and the impact of the dryness of the Teesta River on his livelihood.
In Bangladesh, nearly 2.5 billion tonnes of sediment flow through three mighty rivers—the Ganges, the Brahmaputra and the Meghna—each year. All three rivers deposit portions of the sediment flowing through their waters along their respective riverbeds. Over the years, the accumulation of these deposits has resulted in the creation of many shoals or river islands in the river basin areas. These river islands are known as 'char' in Bengali. Home to more than 600,000 dwellers, Bangladesh's many chars are prone to severe erosion and floods. Every year, chars are submerged by their surrounding waters because of the respective rivers' hydromorphological dynamics. Consequently, the lives and livelihoods of char inhabitants are subject to a variety of stresses that make them socio-economically vulnerable. The Teesta River, a study basin for the HI-AWARE initiative, and also a sub-basin of the mighty Brahmaputra river system, consists of a number of chars in the north-western region of Bangladesh, specifically in the Lalmonirhat, Nilphamari, Kurigram, Rangpur,and Gaibandha districts.
Flooding during the monsoon, and dryness in the pre- and post- monsoon seasons, are common phenomena in the chars of the Teesta basin. Affected chars include Gonai, Bishawnath, Dushmara, Mahimpara, Najirdahand and Jharshinghershor. In the monsoon, when water levels in the rivers rise and flash floods occur, char inhabitants have to take shelter on others' lands and embankments. When they come to the mainland or their corresponding embankments, they face many problems including those of food, water, sanitation, and energy. They lose the crops they planted on their agricultural land and often don't find space to shelter their livestock in the areas in which they have shifted. They return to their own char land when the water levels go down. Sometimes, it takes several years for river water levels to go down enough for plots of char land to emerge and become habitable again. In such cases, the respective char inhabitants lose their homes and agricultural lands.
As the incidence of floods and flash floods increases, the agricultural vulnerability of these areas also increases. Floods bring sand, not silt, with them. Sand, once deposited on chars, causes these lands to become barren. Sand deposition reduces soil moisture and degrades the land system. As such deposits increase, more cultivable lands are rendered infertile. This has made farming most challenging in the shoals. Such loss of cultivable land puts the agriculture and livelihoods of entire char communities at risk and pushes them into extreme poverty.
The fact that the Teesta runs dry during the pre- and post- monsoon seasons each year fuels water scarcity in the char regions and restricts the livelihood options available to its inhabitants. Due to the unavailability of river-dependent livelihood options such as fishing and boating, agriculture has emerged as a major means of earning a living. Char communities need to survive and sustain through agriculture as they live through a series of extreme events—floods, droughts, storms, hail storms, char erosion, erratic rainfall, cold waves and climate variability—which obstruct their lives and livelihood practices. Abulkalam Azad, 33, a landless farmer from the Koshimbari village in the Dahagram union says, "The Teesta River has become unpredictable. It is as if it has lost its youth. Flash floods and river erosion have become very common these days."
Char inhabitants such as Azad live below the poverty line and are forced to live through challenging situations, working hard as they struggle to cope and changing strategies to ensure their survival. Five years ago, most inhabitants cultivated pumpkin on the sandy and loamy soil of their chars. But the market for pumpkins was not good which meant the returns were insignificant. Char farmers have now switched to cultivating maize, peanut, onion and potato, crops that offer them better profit margins. Even the high-yield Boro rice crop has been replaced by maize as sand deposition on chars has made growing Boro unfeasible.
Ten years ago, sand deposition drastically hindered crop cultivation on chars. It was very difficult to grow staples on such barren and degraded land. Today, the persistent endeavours of the people who farm them have made crop cultivation on such sandy, infertile land possible. As a result, the white sandy grounds have turned green. In this regard, the director of the Department of Agriculture Extension (DAE) of Kaunia Upazila says, "The char people are very hard working. They never wait for anyone's help. They employ one strategy after another until they find one that works best."
Extreme climate events such as floods, river bank erosion, drought and cold waves often hinder the optimum production of crops on chars. Local farmers say that new varieties of insects attack agricultural crops during droughts and cold waves. Crops grow slowly during cold waves. These days, char farmers have taken to using anti-cold sprays to protect their crop from the fog and are using nets to fence in their plants for the same reason. A good number of char inhabitants now have shallow tube wells to extract ground water irrigation as well. Those who don't have such an alternative rent irrigation water from others to cultivate their crops. This increases the cost of production but the excess cost can be compensated for if there is a bumper harvest. Char erosion is also a great concern for the people here as it adds to their vulnerability. Lack of improved sanitation, nutrition, education, health care, formal credit, good communication and electricity remain barriers to the socio-economic development of char communities.
Although the conditions char communities live in need drastic improvement, some good things are happening on Bangladesh's river islands. Governmental and non-governmental organisations are working to assist char inhabitants. Their projects include the introduction of improved agricultural methods and techniques that in turn increase production, efficiency and income. Sanitation has also improved relatively in char habitations and more flood-resilient housing practices are being adopted than in the past. There are NGOs that help locals acquire agricultural credit, livestock, improved seeds and technical support. The DAE has is involved in the dissemination of knowledge, technology, farming techniques, methods, ideas and other useful information. In the recent past, the DAE has run demonstration projects related to vermicomposting, Integrated Crop Management (ICM), Integrated Pest Management (IPM) and Farmer Clubs for Sustainable Agricultural Practice in char areas. Here, IPM has emerged as a sustainable approach to managing pests and crops by combining cultural, biological, genetic, mechanical and chemical methods in a way that minimises economic, health, and environmental risks. Facilities such as these are, however, limited and not as yet available to people living in hard-to-reach areas. Char residents in such places are hence more vulnerable to the impacts of climate change.
Regardless of all the climatic and non-climatic vulnerabilities, the char inhabitants of Bangladesh are optimistic. Whatever disaster they may have to live through, they do not want to leave their chars as they don't want to live on land that belongs to other people. To us, floods may be disasters but to char communities, floods can be a mixed blessing. Floods help revive soil fertility, reduce land degradation, boost crop production and increase the total land area of chars.
No hazard will stop the hard-working people of Bangladesh's chars from struggling for their survival. They are brave and determined to sustain themselves. They are determined about cultivating food for themselves and for their nation regardless of the extremities they face. They do so with the help of knowledge that has been passed on to them by their ancestors and with the help of the knowledge they have gained through their own experience. Sometimes, a bumper harvest paradoxically results in lower market prices for their crops, and weak supply chains and poor communications systems impede full access to better markets. Yet the people of the chars endure. They carry on farming and sustaining as they have for generations.