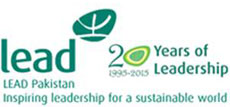 LEAD Pakistan was established in 1995 as a non-profit organisation under the Societies Registration Act XXI, 1880. Since then, it has grown into one of the most dynamic member programmes in the world with a fully equipped office in Islamabad, Pakistan. Lead's Flagship Leadership Development Programme (LDP) was started in 1996 which is an innovative capacity building initiative designed with the purpose of providing knowledge, awareness, skills, exposure and linkages to leaders of tomorrow to integrate sustainable development concerns with their professional work. Till date, a strong community of more than 200 LEAD fellows is making the difference at national and international levels. Lead Pakistan started project implementation at the grassroots level in 2004.
The main focus initially was to leverage its strength in capacity building and training to bring about a meaningful change at institutional and community levels. For implementation and sustainability of development interventions, networks of organizations were formed. Research was carried out and disseminated to inform the stakeholders and increase the impact of interventions. LEAD Pakistan has continued to build its portfolio by planning and delivering interventions in different development areas and sectors especially education, health, livelihood, food & agriculture, environment, forestry, water, energy, water and climate change. etc. The organisation has successfully developed and delivered more than 180 development initiatives with the total financial outlay of more than 25 million dollars.
Currently, LEAD is positioning itself as a think tank and is increasingly incorporating learning, knowledge management and public policy engagement activities in the design and implementation of projects. The policy level interventions are meant to enrich the development vision of the Pakistan government through evidence-based research, and the sensitization of policy and law makers to emerging development needs. More..