Developing Community-based Fruit Nursery in High-altitude Areas of Pakistan
08 May 2017
by Sultan Ishaq, Muneeb Ahmad Khan, Bashir Ahmad, Nelufar Raza, Salar Saeed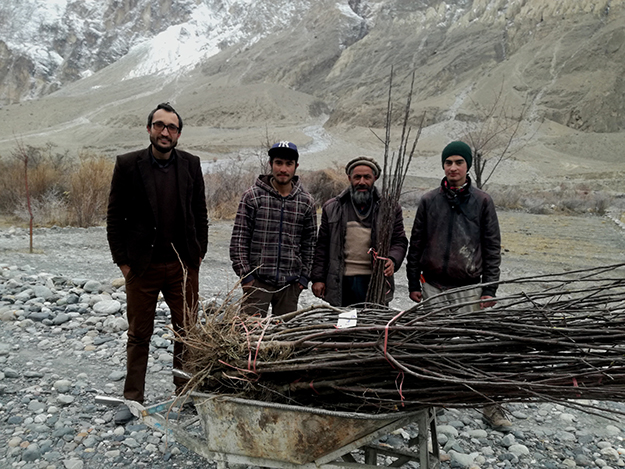 Sultan Ishaq with community members posing with high-yield fruit varieties
High-altitude areas are more vulnerable to climate change. Due to steep and unstable terrain agricultural activities in such areas tend to be small-scale. They are also far away from logistic centers and are at high risk of abandonment. In such conditions, these areas may be seen as "disadvantaged" and deprived.
People of Upper Hunza reside in a challenging terrain that is which are remote from urban centers and has harsh climatic conditions. The steep and unstable slopes and soils with decreasing fertility over time are a big challenge to long-term, sustainable crop production. The risk of crop failure in Upper Hunza has increased due to change in climatic conditions such as temperature and precipitation. The increased uncertainties of agricultural production have impacted the livelihoods of vulnerable communities as they are dependent on agro-pastoral systems for their livelihoods. The production of staple crops in the region is facing problems such as increased insect pests and disease outbreaks as also an increased variability in agro-climatic conditions, especially during the critical crop growth stages.
In such climatic and geological conditions viable alternatives to earn livelihoods are needed to reduce the risks of crop failure. One such viable alternative is to develop high-value fruit orchards, because they give premium and sustainable returns and are more resilient to climate change than the traditionally grown cereal crops.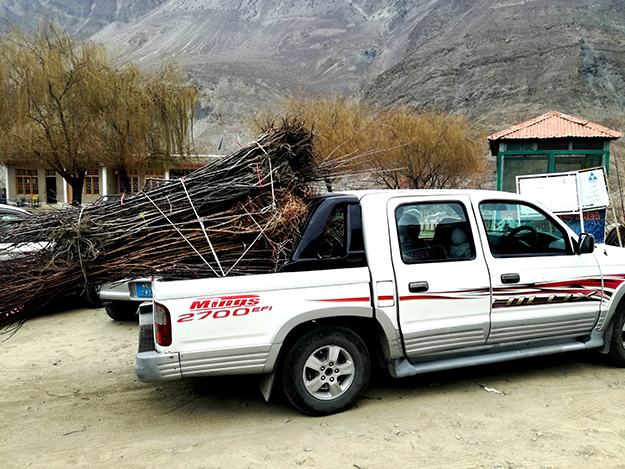 Transportation of plants to the demonstartion site
When we say 'high value-fruit' orchards as an adaptive measure for such climatic and geographic variabilities, it does not imply fruit plants are not grown in the Upper Hunza Valley. For sure mountain communities have been traditionally used to fruit production. But they are using old production methods and varieties. Also, the fruit production is very haphazard; it needs to be done on scientific principles. Moreover, old varieties are prone to diseases due to changes in climatic conditions.
The establishment of certified fruit plant nurseries is the first step for the development of high-value fruit orchards. Without certified planting material there would be no benefit of taking such adaptive measures. Currently, certified fruit plant nurseries are lacking in the area and people have to rely on private nurseries, located faraway, to purchase fruit plants. That's the reason why the development of certified fruit-plant nurseries is a long-term strategy, not only to comply with the increasing demand for certified fruit orchards but also as a source of income for the local people.
In short, the development of high-value fruit plant nurseries in high altitude areas is a sustainable option to climate change adaptation, because of its ability to provide social, economic and environmental benefits to the local people.
The Pakistan Agricultural Research Council (PARC) has taken the initiative of developing community nurseries and orchards in the Upper Indus Basin after consultation with local farmers and professionals on priority adaptation measures in the agriculture sector at the HI-AWARE site in Gircha, Upper Hunza Valley. This site will be used as learning and training ground for model agricultural practices. It was selected in profound consultation with local people, who showed great willingness to accept and adapt climate-smart practices.
In response to demands from villagers PARC delivered 760 high-value, certified fruits plants to people in Gircha. These fruit plants comprise 360 apple plants, 200 apricot plants, 100 pear plants and 100 cherry plants. Fruit plants of different varieties are more easily compatible with local environmental conditions.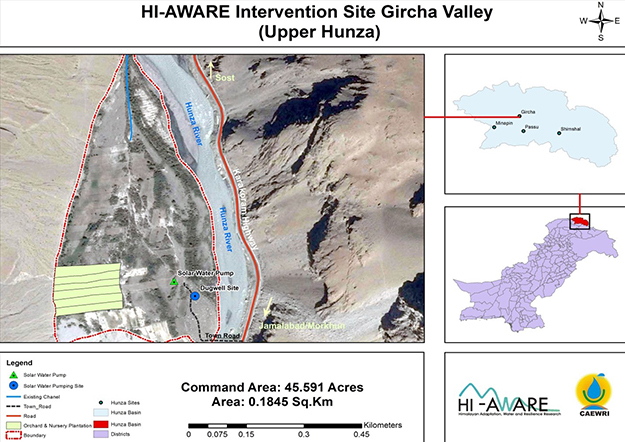 Area map developed by HI-AWARE team showing farm location in Gircha Village of Upper Hunza
All the fruit plants are properly tagged and will serve as a germ plasma unit for propagation along nursery lines. An effort will be made to train nursery growers to comply with certification protocols of the Federal Seed Certification and Registration Department (FSCRD) and then their nurseries will become certified. Since the local community already possesses strong skills in maintaining high-value fruits trees and the marketing of their fruit, nursery development will add skills to their expertise.
The fruits plants were planted in the first week of April in Gircha, Hunza District of the Upper Indus Basin. People there are very happy with this first step taken by PARC and also appreciate HI-AWARE for their efforts for livelihood improvement in such remote areas.
Mr. Sultan Ishaq, Climate Change Adaptation Specialist HI-AWARE Project PARC, was there to deliver the high-value fruit plants. Mr. Raza Muhammad from a community-based organization said on the occasion: 'Establishment of fruit orchards and development of fruit nurseries in such a remote hamlet is a win-win approach for social and economic development of the community. This will not only improve our livelihoods by giving us financial returns but will also help in improvement of our endangered ecosystem.'
We hope such development work will continue and the Upper Indus Basin will transform into a climate-resilient ecosystem with vibrant agriculture, health, water, and energy sectors.