Heat Stress and Effective Heat Adaptation Measures
12 Feb 2016
By ValérieEijrond, Health and Society Master's Student, Wageningen University
I started working as an intern at the HI-AWARE Project in Alterra in September 2015 where I was assigned to a four-month research project entitled 'Heat Stress and Effective Heat Adaptation Measures'. I carried out a literature review leading to an inventory and an analysis of globally existing heat adaptation measures for households in urban areas.
Countries in the Asian region have been facing increasing temperature extremes. For instance, cities in India and Pakistan were struck by severe heatwaves in the summer of 2015 causing a high number of causalities. Furthermore, the Hindu Kush Himalayan (HKH) region is considered one of the world's hotspots in terms of warming trends. It is anticipated that heat as well as other climate-change related hazards will only increase in intensity, duration and/or frequency in the region in coming years.
A large variety of heat adaptation measures can be adopted at the household and community levels in the short, medium and long-run. In this project, 14 measures that can be adopted by households were placed in three categories and analysed in detail, namely:
Active cooling (air conditioners, electric fans, dehumidifiers and evaporative coolers),
Passive cooling (cool roofs, night ventilation, closed windows, window design, insulation, thermal mass and shading devices) and
Green infrastructure (green roofs, vertical greenery systems and private gardens).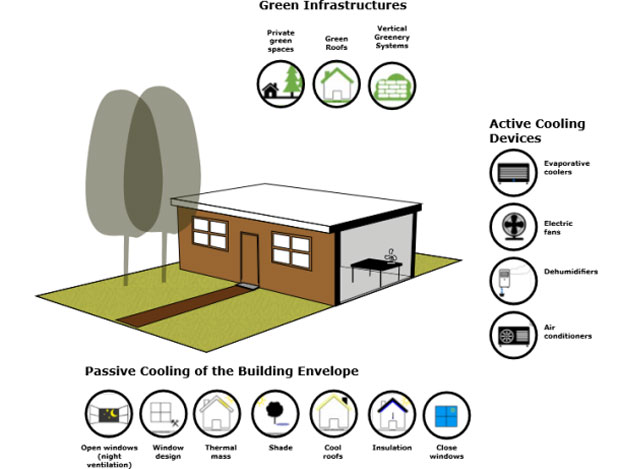 These measures were assessed according to their implementation time, effects on indoor thermal comfort, health, socio-economic factors and the environment, as well as the conditions needed for them to be effective.
This led to the conclusion that there are plenty of emerging heat adaptation measures that can be adopted at a household level in urban areas. However, it is not possible to derive the most effective heat adaptation measures based purely on their effects on the assessed criteria. First, because all measures have their benefits and limitations, it is difficult to find a win-win situation. A measure may improve thermal comfort for instance, and yet be environmentally unsustainable. Second, the effect of each measure is dependent on various conditions such as the local climate and materials used. Third, there remain knowledge gaps such as a lack of peer-reviewed scientific evidence, especially about the effects on (indoor) thermal comfort. Furthermore, more studies need to be conducted in countries where extreme heat and heat stress is an issue.
Nevertheless, the optimal strategy is likely to be a portfolio of measures balancing the benefits and limitations that can be implemented during different time frames. A one-size-fits-all approach does not exist. The challenge of policymakers and city developers is to determine appropriate measures that improve thermal comfort, human health, socio-economic factors and the environment within the specific conditions of a local community.