How SaMi's coordinators can help women who want to go abroad as migrant workers: Dr Amina Maharjan's perspective
09 Sep 2015
By Tiku Gauchan, Consultant, HI-AWARE
Dr Amina Maharjan, Livelihoods Specialist working on migration issues for HI-AWARE and other initiatives at ICIMOD, led a workshop session during the Training of District Project Coordinators programme held at Hotel Greenwich, Kupondole Heights, Kathmandu, Nepal, on August 20, 2015. The workshop was organised by Helvetas Swiss Intercooperation Nepal's SaMi (Safer Migration Project).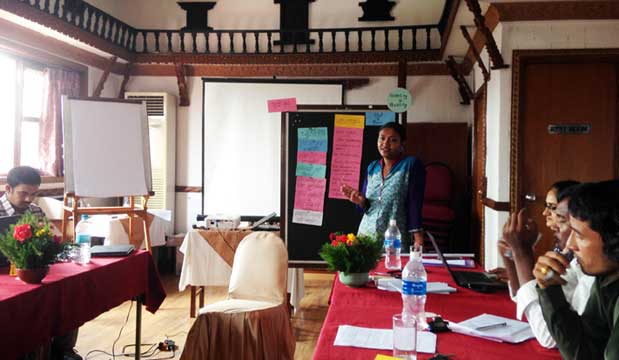 Dr Amina Maharjan leading a workshop to strengthen Helvetas Swiss Intercooperation's Safer Migration project in Kathmandu, Nepal.
Photo credit : Tiku Gauchan
The larger objectives of the workshop were to:
provide clarity on the roles and responsibilities of SaMi's District Project Coordinators (DPCs),
enhance their capacity on communication, counselling, coaching and facilitation skills , and
review and update other working guidelines.
The DPCs are overall responsible for technical backstopping and quality assurance of the implementation of SaMi project in 18 districts.
ICIMOD's Dr Maharjan—owing to her experience in working with migrant women and her expertise on migration issues, including her recent study visits to Sindhupalchowk and Nuwakot—was brought in to provide suggestions for the coordinators on how best they could work on behalf of migrant women workers.
Dr Maharjan first provided a brief outline of how Nepali women were going abroad to find work, what the reasons for their migrating were and whether such migration helped them achieve some measure of independence when they returned home. All the coordinators agreed that women's migrating abroad, if done in the optimal way, helped women in the long run.
Some of the trends Dr Maharjan highlighted were as follows:
Experts do not really know, even when they look at the government data, how many Nepali women are actually migrating abroad for work;
Regarding the methods used by women for gaining entrance to work destinations abroad: most women migrating as domestic workers use undocumented ways for their migration process. However, those working in other formal sectors go through formal channels using the services of recruiting agencies. For the documented women migrant workers the popular destinations are Malaysia, the United Arab Emirates, Qatar, Cyprus, Israel and Lebanon;
But according to documentation from organisations that work with women migrant workers, such as Pourakhi, there are quite a large number of women migrants working in destination countries such as Kuwait and Saudi Arabia; the leading districts from where the women migrate lie in central and south-east Nepal;
The recent proxy data collected by the Department of Foreign Employment on undocumented migrants (based on the passport information, which shows at least one visit to the destination without the respective work permits)shows that around 20-25 percent of Nepali women migrant workers are undocumented workers;
The profile of the average woman migrant worker (based on information from collected by Pourakhi, a NGO, operating safe house for returning migrant women) shows that the age range is usually 18-30; the government just a few months ago lowered the age bar for women migrants going for domestic work in Gulf countries from 30 to 25 years.
So why are the women going abroad to work, with many of them actually circumventing government rules that bar them doing so, especially if they are under certain age?
According to Dr Maharjan, outbound migration among women is driven by the same reasons as they are for men: they are compelled to go abroad to make money for themselves and their families. And quite a large number are migrating as undocumented migrants.
The reasons that many women go abroad as undocumented workers:
Socio-economic situation of the households; most are poor and they have no other option but to try their luck abroad; but when they do go abroad as undocumented migrants, some of them may be "jumping from the frying pan into the fire";
Perceived 'no/low cost' for migrating: men have to pay money to get jobs abroad; most women do not have to pay money upfront;
The government's strictures against women under the age of 25 going abroad as domestic workers (which until recently had been set at 30 years old) means that many women who wanted to go abroad were forced to circumvent the rules;
Social network's pull-factor: many women in villages such as Sindhupalchowk see how other women who go abroad return with money, and they too want to make money;
In many instances, the women have to go abroad as untrained, unskilled labourers because there is now in many areas of Nepal a stigma attached to women's going abroad, and thus they cannot avail of counselling or skills-training programmes (which would reveal the women's intents—to leave for abroad—to the larger society they are a part of).
The stigma attached to returnee women migrant workers in some communities (this does not apply to all communities, though; for example, in the Tamang communities in Dolakha and Sindhupalchowk, women who return from the Gulf countries and Malaysia are considered to have made something of themselves) is largely a manifestation of media reports. Dr Maharjan said that activists and experts who work on behalf of women migrants too had helped create this stigma, inadvertently, through how they portrayed the problems faced by women.
The conditions and ground realities that have led to women being abused and the stigmatisation that follows
Most media stories about women migrant workers focused on the harassment and sexual abuse faced by women workers abroad—because such stories hit home with the audience. Experts who work on behalf of women workers did provide many of the quotes and background for the stories—although most were doing so only because they wanted the government to be accountable for Nepali women migrant workers. In the end, though, a preponderance of such stories has led to the perception that almost all Nepali women migrant workers were being physically and sexually abused abroad.
This has led to a vicious cycle, wherein in many communities, it is preferred that women do not go abroad to find work; but because many poor families have no option for generating income, the women have to find a way to out of Nepal. The women cannot be openly seen to be preparing for life abroad (through information counselling and skills-training programmes, etc) and thus many leave home unprepared and undocumented. And the women who go abroad thus, without the required papers, often end up working in places where they can become victims of abuse.
Stigmatisation
Dr Maharjan then talked about how many communities stigmatise women who have been sexually abused.. This means that abused women then have a two-pronged problem on their hands: one, they have to overcome the effects of the abuse they have suffered; and two, they have to then live with the stigma, foisted on them by society, that they have been abused.
Furthermore, in some communities, all returnees are stigmatised as having fallen. The chief rationale used in stigmatising women migrant workers thus, the workshop attendees agreed, had to do with society's notions of what it meant for women to have been subject to abuse—or even regarding the possibility that some of the women could have had sexual relations abroad. In many of these societies, an abused woman is relegated to being unmarriageable and even those women who have not been abused are considered to be unmarriageable.
The challenge faced by the DPCs (information gleaned from a brief group discussion held among the DPCs)
Some of the challenges that women who wanted to go abroad as migrant workers had to deal with pertained to the following:
The discriminatory migration policies for men and women;
Many women are not educated;
Many women are extremely dependent on their local agents, and when they come to the ICC for counselling, they merely parrot the talking points taught to them by the agents; oftentimes, other family members speak on the behalf of the women, and thus the DPCs cannot get a real sense of how prepared a woman is to go abroad;
Many women do not have faith in training programmes that would help them get better jobs abroad; most want to take up domestic work because they feel they are comfortable with that sphere of work.
Dr Maharjan's suggestions to the DPCs
The workshop attendees agreed that going abroad to work presented an avenue for Nepali women to earn an income for themselves and return home to start a new life as an empowered, financially secure individual. There are thus immense benefits to women's working abroad, concluded the group. The problem, said Dr Maharjan, lay in the fact that many women were still venturing abroad as undocumented workers—which sometimes led to their working in situations that could lead to abuse and exploitation.
The solutions offered by Dr Maharjan for the DPCs were the following:
The DPCs first needed to internalise the fact that abused women were not to be stigmatised. That they needed to understand that victims do not intend to be victims, and if they had become victims, then they need support, not further stigmatization;
The DPCs needed to use cost-benefit-analysis frameworks when talking to women who wanted to go abroad to first figure out whether they really needed to go abroad, and if they were sure they wanted to go abroad, to do two things: one, encourage them to go abroad as legal, documented migrant workers; and two, encourage them to get trained in some skill that would help them procure better jobs;
If the women did not have the education to avail of the higher-skill training programmes, the DPCs needed to at least encourage the women to take part in orientation programmes that would help them better understand the culture of their work-destination;
More knowledge on making migration safer for women needs to be generated and this can be done by interacting with migrant women returnees. Eg. How the risk of physical abuse can be reduced by being more apt at handling household gadgets and some basic language skills and how the risk of sexual abuse can be reduced by understanding the subtle cultural differences.
And, finally, the DPCs needed to disseminate more positive stories about women migrants (how they have returned to set up businesses etc) rather than merely focus on stories about how Nepali women migrant workers were being mistreated abroad.