Gathering Clouds!
17 Jan 2017
Stakeholders of Chitwan, Nepal, can now understand better the effects of climate change on their communities, since they will have local professionals trained to recognize climate change
Empowering of local stakeholders is a good indicator of the progress of a project, especially when it means active community engagement in the form of face-to-face meetings, training programmes and other community outreach arrangements. For HI-AWARE, translating the complex science imbedded in its research to an accessible knowledge format remains a prime objective. This is covered by HI-AWARE's 'Research into Use' component, in which the uptake of research is an important expression of HI-AWARE's rationale. Such use of research would mean an active engagement with stakeholders, not only to understand and realize this usable knowledge at an abstract level but more so to synthesize it within their day-to-day existence.
With this in mind, HI-AWARE, in collaboration with Practical Action, Nepal, recently signed a Letter of Intent (LoI) with the Chitwan District Development Committee in South Nepal. This LoI was the result of demands made by people from the community there, an important sign of local people's willingness to learn about their changing environment.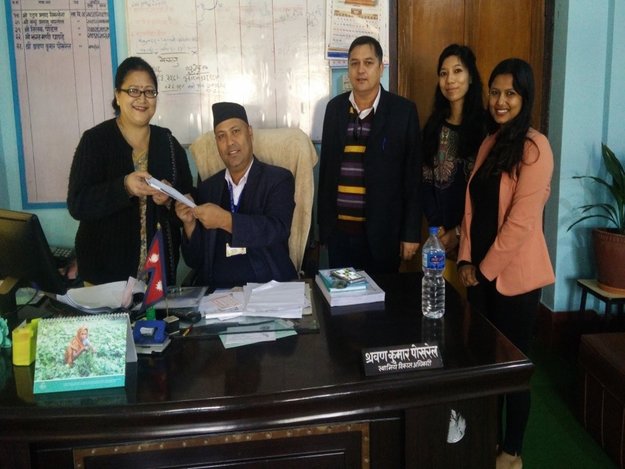 Signing of LoI with DDC Chitwan
The outreach would be in the form of a Certificate course conducted by HI-AWARE for Chitwan's local district level officials to build knowledge and strengthen expertise. The focus would be on learning the fundamentals of climate change and disaster risk reduction.
On 28 November 2016 HI-AWARE conducted a committee meeting at Hotel Global, Chitwan, to bring together all interested parties for a presentation on the course. Delivered by Mandira Singh Shrestha, the presentation focused on important tools and methodologies that can be used at local level.
During the interaction various participants, representing district level governing bodies, raised vital questions. Kedar Nath Poudel (participant from District Forest Office) pointed out there was a REDD + ICIMOD programme already in effect. He also mentioned that the District Development Committee (DDC) had sought support to strengthen the LAPA (Local Adaptation Plans for Action), a local-level framework that helps provide adaptation services. Shrestha responded that some synergy between running programmes in ICIMOD is always attempted. Also, implementing a Payments for Ecosystem Services (PES), as suggested by Poudel, would be a vital step in connecting upstream-downstream linkages. A successful running example is of Shardu Khola in Dhankuta, Nepal, where the PES concept has been successfully piloted.
The Certificate programme is termed as such because of HI-AWARE's push to keep it a long-term initiative. An important question on the terminology and duration of the project clarified this. Sudhir Shrestha, from the District Agriculture Development Office, enquired about the name of the course while raising a question also regarding its duration. Teaching will be over a period of six months with the aim to internalize all that the participants learn during the course work. This would help them apply all they learnt at their respective levels.
The importance of participants is such that the success of any programme on this scale would essentially lie in their willingness to take part in such forms of training. As pointed out by Poudel again, there was interest among staff at the district forestry level in the programme. Shrestha emphasized participants would need to be dedicated and determined to take full advantage of the course. With full cooperation from the DDC Chitwan, as Shrawan Kumar Pokharel, Local Development Officer, observed, selection of ideal participants would ensure the success of the training programme.
The Certificate programme will start from January 2017 and be a module-based training to build the capacities of thematic line agencies in the district to help them better understand climate change scenarios to mainstream development planning and enhance decision-making. Around 25 participants (50% of them women) will be trained for 6 months in 5 different course modules. A brochured detailing the certificate program, can be found here. For the Nepali version of the same document, can be accessed here.