HI-AWARE wins Gender Award
12 Feb 2017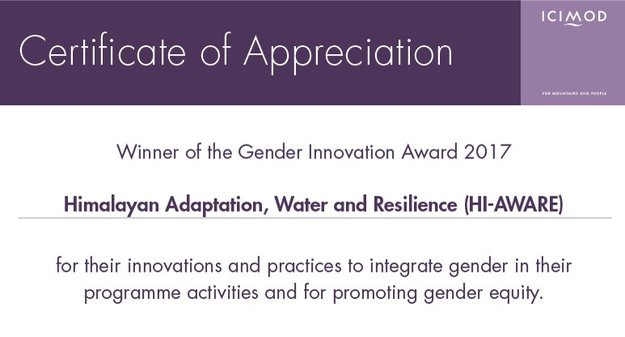 ICIMOD hosted celebrations at its Kathmandu office on the event of International Womens Day, 2017. The occasion saw various inspiring women from diverse backgrounds, speak at the event. Following these talks, the event finished with the Gender Innovation Awards being conferred to various initiatives at ICIMOD. Among these, HI-AWARE was also granted the G.I.A for 2017. The objective of this award was to recognize and generate evidence on how themes, programmes, initiatives have worked on closing the gender gaps that can help achieve gender equality and other development outcomes.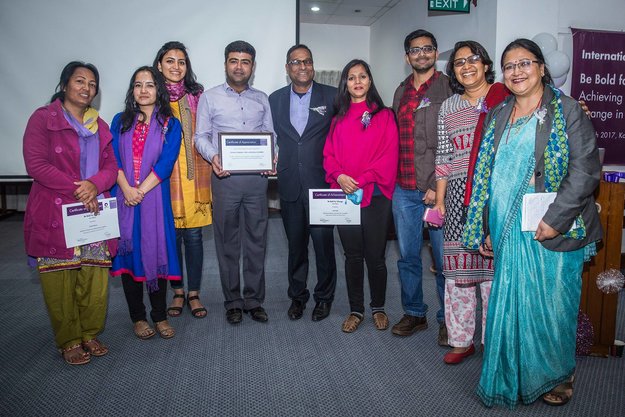 PC: Jitendra Bajracharya
Furthermore, it was to promote uptake of effective gender transformative practices, initiatives, policies and programs in the Hindu-Kush Himalaya region. Applications for the award were assessed on various criterion described below:
Process– How sensitive and flexible is the implementation process to close the gender gap considering women/gender perspectives needs and interests?
Outcomes and Impact: Are outcomes and impacts help the cause of gender equity and/or equality?
Numbers and outreach: How many women, particularly poor and marginalized women, have been reached? How have the programme made women more visible in the system or challenged the existing gender relations?
The HI-AWARE team is immensely proud of this achievement and hopes to continue this trend in the future.