Solar-wind Electricity Generation: Opportunities and Challenges
30 Mar 2016
By Anju Pandit, ICIMOD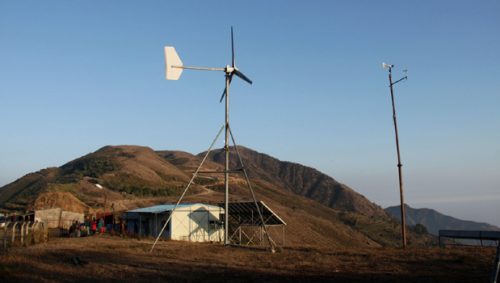 Wind-Solar hybrid system at Dhaubadi VDC, Nawalparasi District
Nepal is a country that has been classified as one of the least developed in the world, but in terms of potential for developing renewable energy, it is one of the richest. A solar-wind assessment study conducted by the Alternative Energy Promotion Centre (AEPC) in 2008 showed that there are remarkable possibilities for solar-wind harvesting in Nepal.
The first solar-wind hybrid system was installed in Dhaubadi VDC, Nawalparasi, in 2011 with financial support from the Asian Development Bank (ADB). In 2015, AEPC installed a solar-wind hybrid system in Phaparbari VDC, Makawanpur district. As part of HI-AWARE, Bimal Regmi, Consultant at Practical Action and I visited the two locations and learnt about the opportunities and challenges associated with solar-wind hybrid systems.
Our field visit first took us to Dhaubadi VDC in Nawalparasi district—an area located at an altitude of 1,203 meters—where we studied a 12 kW wind-solar hybrid system (two wind turbines with capacities of 5 kW each, and one solar panel with a capacity of 2kW). The system, installed in 2011 as a pilot project (wind-solar hybrid system) has been operational for the past five years. The project was completed with financial support from the ADB, technical assistance from Krishna Grill and government support from AEPC, and involved extensive participation of the local community. The wind-solar hybrid system was installed at an estimated cost of NPR 12,500,000 with the VDC providing NPR 150,000 and local communities providing labour (sweat equity) .
Prior to the installation of the system, Dhaubadi relied on firewood, kerosene and batteries to meet its energy needs. Almost 12 percent of village household expenditure accounted for kerosene and batteries. The villagers all agree that the installation of the wind-solar hybrid system has reduced their energy expenses by a third of what it originally was. The 52 households in Dhaubadi's Magar village need 43.6 kWh of electricity per day, a need that is fulfilled by the system. The community school and police post have also benefited from the same. Earlier, in the absence of electricity, villagers had no option but to go to bed early in the evening. Often, children could not complete their homework on time. Evenings that would have been otherwise wasted are now used productively or for recreational purposes. Rural electrification through the wind-solar hybrid system has transformed Dhaubadi. Access to electricity has improved people's overall work performance, health, children's education and also eased women's household chores.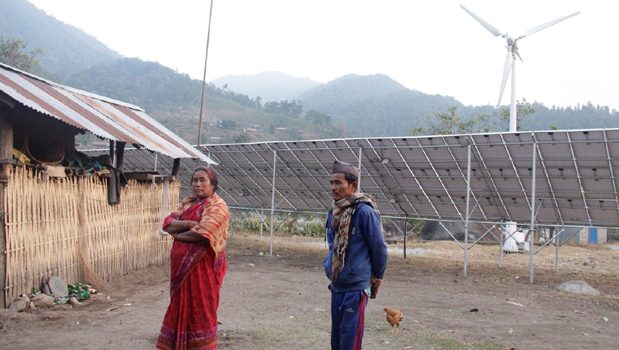 A Ghalan Couple who gave part of their land to the solar-wind hybrid system installation project
The system is not perfect, however, and has numerous constraints attached to it. Til Bahadur Thada, a local, expresses a community concern when he says, "We have not noticed any change in wind flow but power production is not a 100 percent right now. The machinery was properly installed, and repairs and maintenances within the warranty period were also faithfully covered. But now that the warranty period has passed, the wind turbine is not operating well. We believe our battery backup has also been affected, and that has affected our daily electricity production."
The Hurhure Daanda Agricultural Cooperative is involved in the system's operation and maintenance as well as collecting a monthly tariff for the same. It has been collecting a monthly minimum cost of NPR 300 from each household for lighting only. After accounting for operations and maintenance costs, the committee's total savings amount to NPR 600,000 as collected over the past five years. Upon facing constraints in electricity production, the committee decided to change the existing batteries and wind turbine but was surprised to learn, upon consultation with concerned authorities, that just the cost of replacing 36 batteries would exceed their total savings. In such a condition, replacing even one wind turbine, and that with the cheapest Chinese model available, will set them back NPR 500,000, which means it is next to impossible to do so without external support. The local people were of the opinion that the first-of-its-kind pilot project was, therefore, at risk.
Our second visit was to Bhorleni, a Tamang village of 131 households located at an elevation of 256 metres above sea level along the Bagmati River towards the eastern end of Makawanpur District
Although without access to the national power grid, Bhorleni now produces its own electricity thanks to the recently installed wind-solar hybrid system. The 25 kW hybrid system was installed in 2015 at an estimated total cost of NPR 12,000,000 with AEPC providing NPR 9,000,000, the local community contributing NPR 2,000,000 in cash and NPR 1,000,000 in labour (sweat equity) and fixed assets. It is the first wind-solar pilot project set in motion by the Nepal government (AEPC). AEPC has handed over responsibility for system operations and management to the local consumer committee.
Bhorleni's residents had not expected to gain access to electricity any time soon. The national grid's sluggish expansion to Jyamire, a downhill village two hours on foot from Bhoreli, had been example enough for locals to believe that it would be long before a reliable source of power lit up their village. The installation of the wind-solar hybrid system has not only addressed their need for electricity, but also given locals hope that economic prospects might improve for the village.
Akkal Bahadur Rumba, member of the village electricity consumer committee, put it best when he said, "Before the installation of the hybrid system, Bhorleni was an unwanted, isolated locality without fertile soil, proper irrigation, road facilities and electricity. Access to electricity has given the village a new identity. Land valuation is increasing, the market is expanding, and the place is becoming a learning hub for people interested in the wind-solar hybrid system. All this has opened doors for local economic progress."
Chatra Bahadur Ghalan, a local, says that although the wind has been blowing and the sun shining for ages, it is only now, with the installation of the wind-solar hybrid system, that villagers have been able to access electricity. As many as 131 households in Bhorleni consider themselves lucky to have access to potential round-the-clock electricity at a time when even Kathmandu, the nation's capital, is reeling under power outages for up to 14 hours a day. The locals point out that access to cleaner electricity has reduced their dependency on kerosene, and made it possible for their kids to study late into the night and for themselves to work longer hours.
The wind-solar hybrid system in Bhorleni did not have a synchroniser that would have allowed the hybrid system to work simultaneously during the time we visited. It had been producing10kW of electricity—enough to power 141 households during the 'wind flow periods' which last from 4 am to 8 am, and 6 pm to 12 pm—to power 131 households. The electricity being produced at the time was used to power two to eight light bulbs in every household in addition to TVs and other electrical appliances. The synchroniser, which would ensure 24-hour power for the village, was expected to arrive by the end of February 2016.
Although access to electrical power has been free during the installation period, the local consumer committee is planning to impose tariff rates for electricity on an equitable basis (as per the relative electricity use and economic status of residents).
Padam Ghalan, the system operator, told us that since wind flow and solar power supplement each other in terms of power production, it was essential that proper operation be ensured to increase the overall efficiency of the system.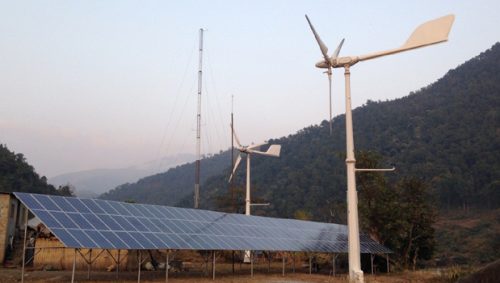 Solar (15kW)-wind (10kW) hybrid system installed in Bhorleni VDC, Phaparbari, Makawanpur
The formal handover of the system to the community by AEPC has imbued the former with a sense of responsibility towards its sustainable management. Community members are now managing electricity use according to the capacity of the system. In the absence of a synchroniser, the villagers of Bhorleni, as responsible operators, chose to compromise their electricity access during the evenings rather than overload the system during the time we spent there.
The consumer committee also realises that the solar-wind hybrid system uses comparatively expensive technology and has prepared plans for the diversification of its use once the synchroniser becomes functional. Locals plan on utilising AEPC subsidies on various industries/equipments (rice husking mills, grinding mills, furniture factories, poultry farms and water pumping sets) to drive economic activities in the village. Diversified electricity use for households and local industries is expected to not just decrease dependency on firewood, kerosene and diesel but also vitalise the rural economy with opportunities for growth and entrepreneurism. Since Bhorleni is also a market hub for people living in adjoining villages (including bordering villages in Kavre district), the local community believes that the wind-solar hybrid system offers positive implications for socio-economic growth and environmental prosperity in the region.
Santosh Rai, an engineer with AEPC, states that constrains associated with the wind-solar hybrid system are well understood. The technical and social feasibilities of the system, as proven in Dhaubadi, have paved ways for replications of the project in four other places—in Makawanpur and Jumla (operational), and in Accham and Surkhet (under construction). The financial limitations of such projects, however, need to be further considered.
The AEPC vouches for the soundness of the system and is willing to support communities in their endeavours to make the same sustainable. Engineer Rai states that Dhaubadi and Bhorleni have had two of the most successful pilot projects in the wind-solar energy development sector in Nepal. He says, "What we learnt from these pilots will pave the way for a sustainable development of alternative energy in the country and contribute to reducing energy drudgery in the future."