Too warm for Choogahs
02 Nov 2017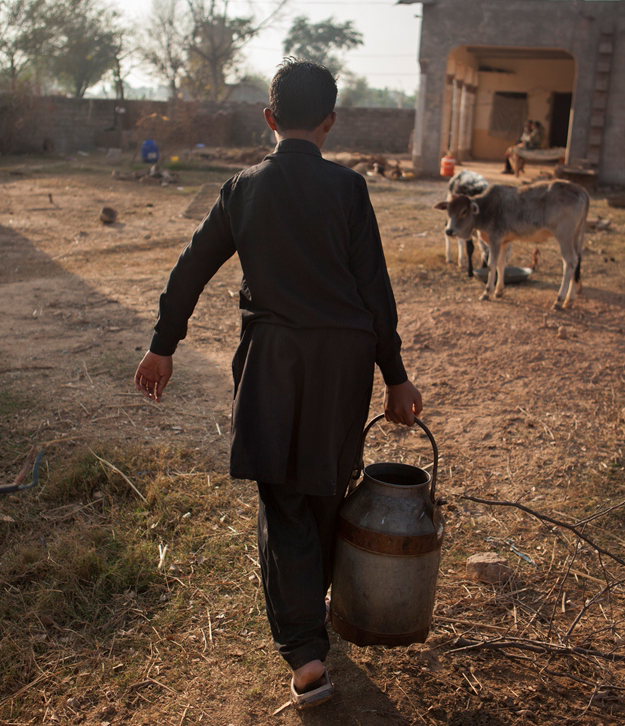 Livelihoods based on a agro-pastoral stand the most at risk in the changing climate of the HunzaHuman beings have been adapting to environmental changes for centuries. Now climate change is triggering bigger and faster changes than ever anticipated by societies. The most vigorous changes, which pose a great hindrance to adaption, include the rise in global temperature, a change in precipitation timings, intensity and duration, flash floods, sea level rise, habitat fragmentation, species extinction, glacial melting, and drastic changes in fragile ecosystems.
Mountain ecosystems are one of the best indicators of climate change. The mountains of Gilgit-Baltistan (GB) in Pakistan, formally called the Northern Areas, represent a landscape of immense natural beauty, innumerable natural resources, and varied climate and ecosystems. They are a storehouse of unique biodiversity: the area has a concentration of very high mountains and peaks providing ecological niches for various floral and faunal species. The world's three mightiest mountain ranges, the Karakorum, Himalayas, and Hindu Kush, meet at the confluence of the Gilgit and the Indus rivers.
Like in other parts of the world, climate change is taking place in GB and drastically affecting the fragile ecosystems and, subsequently, local people's lives and livelihood sources. However, unlike the physical environment, their indigenous knowledge has not received much attention from researchers and policy makers.
Considering the huge impacts of climate change in GB a qualitative survey was conducted by a HI-AWARE team of the Pakistan Agriculture Research Council (PARC) in the Hunza River Basin located in GB. The objective was to document people's perception of climate changes and their coping and adaptation strategies with respect to these changes.
The study was conducted in four major villages in the basin and collected case-history evidence from local people. The methods used were Focused Group Discussion (FDG) and Participatory Rural Appraisal (PRA) The FDG was with a sample of 15 persons, including men and women, aged above 30. In the PRA local problems were identified and people's needs ascertained with a scope of possible intervention.
In each village, discussions were held with men's and women's groups separately, using their local language. People were asked to compare the current situation with the one 10 years ago through several parameters. They could express their views with regard to changes in temperature, precipitation, sowing and harvesting periods, flowering timings, fodder availability in pastures as also unusual weather patterns.
People recounted of changes in the region over the past 15 or 20 years. They said that the change in climate had significantly altered their lifestyle and source of livelihood. They also spoke of glacial melt and glacial lake formation events in surrounding areas.
People in the basin are dependent on natural resources. Agriculture and livestock are the main sources of livelihood. The region falls under a mono-cropping zone; the staple crops include wheat, maize, and potato. The sowing season varies in villages: it starts from the first week of February in the lowlands and carries on till 10 April in high altitude areas. The harvesting period runs from mid-July in the lower regions till the end of October in the upper mountainous areas. Apricot, cherry, apple, and peach are produced in abundance in the region. Locals do not enjoy these fruits themselves but sell it in the market.
They further said about experiencing temperature shocks and erratic rainfall, which have had observable impacts on plant phenology and overall livelihood activities. For example, flowering of almond plants used to take place in March but now has shifted to early February due to a rise in temperature.
The rise in temperature with winters becoming warmer is also evident from a change in the lifestyle of local people. About 10 years ago, most people in the Upper Hunza used to place additional (coal) stoves in their houses. But now, many have left this practice, as warmer conditions in the region have led to less use of stoves. Also, over the past 10-15 years, the number of blankets people use has reduced from three to one in the lower regions of the Hunza River Basin. Another drastic change has been observed in less use of woollen clothing like the Choogah (a traditional, long woollen robe worn by men) and the Shaaye Don (a woollen stole for women).
People further expressed their views about the increase in temperature in summer. They said pedestal fans were never needed in summers earlier, but now they are in common use. Actually, people now would install roof fans in newly constructed houses to cope with the heat.
They further said about experiencing temperature shocks and erratic rainfall, which have had observable impacts on plant phenology and overall livelihood activities. For example, flowering of almond plants used to take place in March but now has shifted to early February due to a rise in temperature.
As for people's views of the snowfall pattern, they thought that snowfall has shifted from the original December-January period to the end of February and even March. The amount of snowfall and retention period of snow has reduced significantly in the past 10 years. There were also some unexpected snowfall events that occurred on 20 March and 7 April 2010.
The planting and sowing season commences early, and the types of crops that are grown have changed as well. Local crops such as barley and millet which grow well in a cold environment have been replaced with cash crops such as potatoes. More and more crops are being cultivated for commercial purposes and the varieties of fruit trees grown have become more diversified.
Further, over the past few decades, people's reliance on chemical fertilizers has increased, and this practice has degraded the natural soil ingredients.
With these changes in climatic conditions, people are taking some autonomous adaptation measures to cope with the challenges. Community-based and ecosystem-based adaptations are imperative to reduce vulnerability, to enhance resilience, and to mitigate the effects of climate change. The use of climate- smart technologies in different sectors like energy, agriculture and water is also becoming popular. In addition, local people are now taking the benefit of water availability in the area and pico/micro-hydel systems are gaining popularity in villages.
Significantly, there are several instances of adaptation measures in the area. It is common these days to see solar panels shining on the roofs of many houses. They have been installed to meet basic illumination needs. Traditional open stoves have been replaced by energy-efficient stoves. Some stoves are coupled with a pipe for water heating, which is reducing the energy consumption for heating water. Insulating material like thermo foil and plywood is being used in construction.
There are community-based organizations in each village of the Upper Indus basin (UIB), which are actively involved in the management of natural resources. Tree plantation is strongly encouraged, and rules and regulations have been made regarding livestock grazing. These organizations have set a limit on the number of yaks and cattle a household may possess. This is a key step to reduce over-grazing in the rangelands of the UIB.
To conserve flora and fauna in the mountains, community organizations have put a ban on open hunting, over-grazing, and tree cutting. Only licensed trophy hunting is allowed, that too, only for certain species of wild life. The income from trophy hunting is only used for community development and education. One example is the Khunjarev Villagers' Organization, which has set-up a girls' hostel in Gilgit city and is also working on multiple, small, development projects.
Undoubtedly autonomous adaptation measures are a good step, but to improve the adaptive capacities of vulnerable communities, planned initiatives should be taken by the Gilgit-Baltistan government along with village organizations, especially civil society organizations.